| | | |
| --- | --- | --- |
| Approach | | |
In contrast with investment banking firms, commercial banks and other sources of financing, independent FAs such as First River Advisory have no products to sell beyond their advisory services. Yet, First River Advisory has the market intelligence to know which firms can deliver to its clients the requisite products, and the prices and terms of which would represent superior value. An independent FA's function with respect to a capital financing program is similar to that of an independent consultant engaged by any organization to assist with the selection and acquisition of any complex product or service in order to avoid having to rely on its vendor for advice. Similarly, individuals might read Consumer Reports® or other publications before purchasing an automobile.
Though it could be considered as a means to an end, a health care organization's capital financing program, like an automobile with respect to an individual, represents a major investment. Mistakes can be costly.

First River Advisory

helps clients "see around corners" to avoid mistakes.
In both cases, there is a wide variety of products from which to choose. Products need to be tailored to fit the situation. One size does not fit all.

First River Advisory

takes the time to understand clients' situations, constraints and preferences thoroughly.
The "purchase" of neither a capital financing program by a health care organizations nor an automobile by a consumer are routine activities, except for the very wealthy (unlike all of

First River Advisory's

clients). Major medical centers and hospital systems, more frequent participants in the capital markets, can find it cost-effective to maintain dedicated treasury staffs who can evaluate options without the aid of consultants. Smaller health care organizations, with their more sporadic needs, cannot. Moreover, capital markets tend to change significantly between the times that smaller organizations need to access them. Further, the financing solution that was in vogue the last time may no longer even exist (such as auction-rate securities).
Unlike tangible products and many services, risk is a critical element of capital financing programs.

First River Advisory

routinely ensures that its clients understand the trade-offs between risk and cost.

First River Advisory's

independent perspective enables it to point out the subtle risks and disadvantages that are frequently left unaddressed by products' vendors.
First River Advisory frequently assembles financing plans which mesh financial products offered by investment banking firms, commercial banks and other financing sources. Ideal financing plans take advantage of the strengths of each type of financing source, and do not rely on any such source to deliver a product which is beyond its regular line of business (no "square pegs in round holes"). The optimal solutions for many First River Advisory clients have involved the issuance of multiple debt instruments. These solutions took advantage of the capabilities of investment banking firms, commercial banks and financial institutions offering derivative financial products, each according to a definitive financing plan.
First River Advisory puts its clients "in the driver's seat" to choose from among several viable financing solutions, either singly or in combination, according to its own selection criteria. There is no reason why any health care organization's choices should be limited by the products that a particular investment banking firm, commercial bank or other financing source has to offer or by those which feature the greatest profit margin.
This concept of independence is paramount. As an independent FA, First River Advisory is clearly an advocate for its clients, to which it is solely accountable. Even when not required by regulation, First River Advisory routinely accepts a fiduciary duty to its clients. First River Advisory evaluates each financing alternative without bias, and then assists its clients to select the vendor which can deliver the required product(s) on the most favorable terms.
PROJECT FINANCING APPROACH
First River Advisory typically approaches financial advisory engagements in two phases:
| | | | |
| --- | --- | --- | --- |
| | Planning Phase: | | the development of a capital financing plan (the Financing Plan); and |
| | | | |
| | Implementation Phase: | | the implementation of the Financing Plan which will have been adopted by the client's governing board. |
The following diagram is mainly applicable to the Planning Phase with respect to project financings, but can be adapted to other situations. While the description below represents our typical approach, we will tailor our approach for each individual client or Financing Plan as appropriate.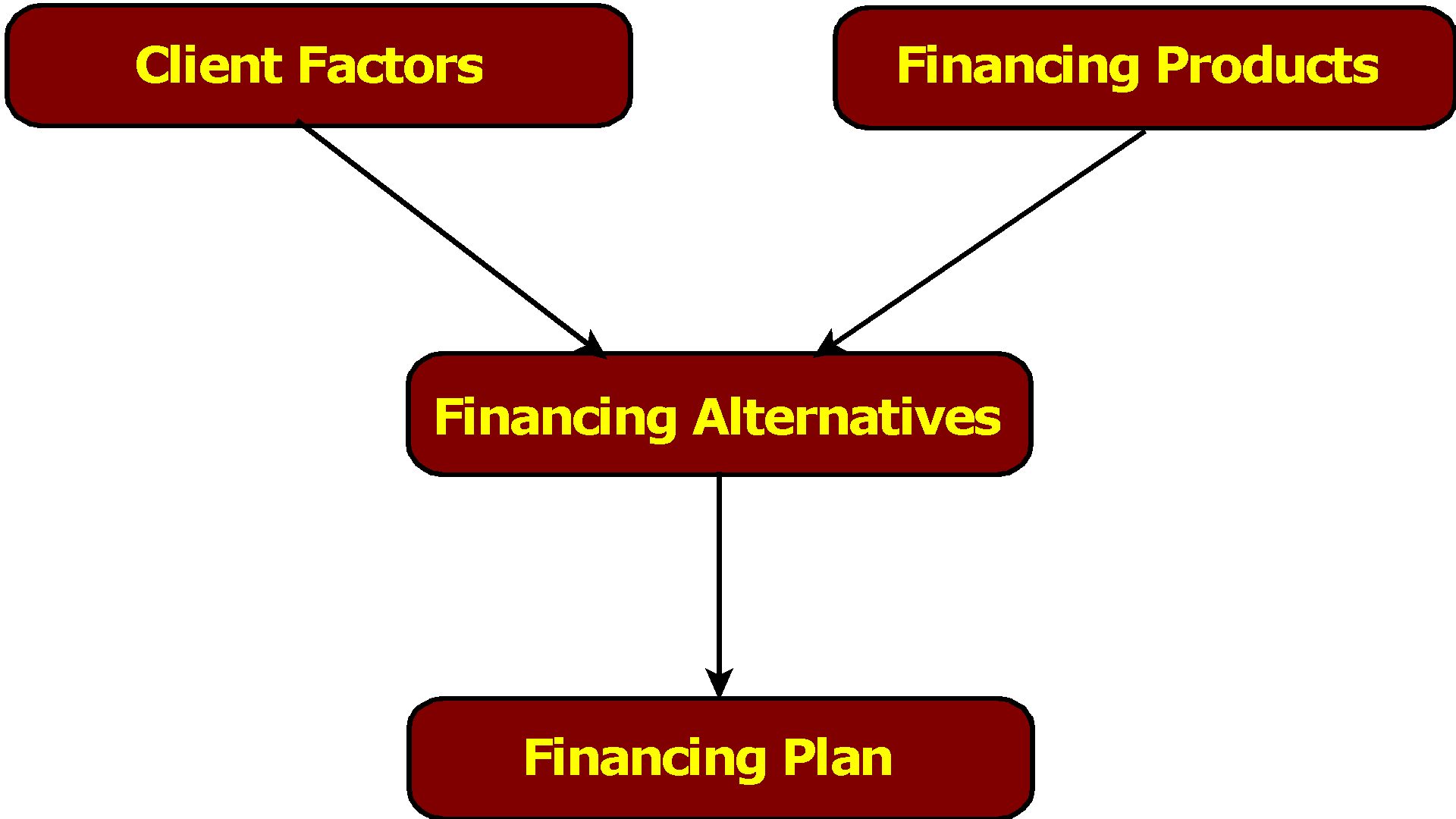 As FA, First River Advisory's job is to define several Financing Alternatives for consideration by the client's management and governing board by evaluating various Client Factors and relating them to appropriate Financing Products. The outcome is a definitive Financing Plan that is ready for implementation.
CLIENT FACTORS
First River Advisory employs a balance sheet management approach to the development of Financing Plans. A more simplistic approach would be limited to the financing of facilities improvement projects in a vacuum. The balance sheet management approach entails the examination of numerous factors over a relevant planning horizon, say three to five years. In addition to the particular project requiring financing, First River Advisory's delves into those Client Factors which are likely to impact the client's balance sheet over this time frame. Relevant Client Factors typically include, at a minimum:
the client's risk tolerance;
the clientt's financial condition and other indicators of credit quality;
the client's cash generation capabilities;
the client's routine capital budget (aside from the project which represents the impetus for the financing);
the cost, timing and other characteristics of all capital assets that the client plans to add;
other significant cash needs, such as supporting physician practices or funding defined-benefit pension plans;
the client's investment policies; and
the client's strategic plans and expectations for the future.
FINANCING PRODUCTS
First River Advisory identifies, evaluates and present for clients' consideration Financing Products that may include both tax-exempt bonds and taxable bonds, conventional bank loans, loans from or backed by U.S. government agencies, leases and other forms of debt instruments. Each of the Financing Products has a myriad of variations, such as fixed- and variable-rate instruments, for instance. Other Financing Products may become worthwhile to consider as well.
FINANCING ALTERNATIVES AND SELECTION OF THE FINANCING PLAN
Different combinations of Client Factors and Financing Products produce a number of Financing Alternatives. First River Advisory has found that in most cases, no "magic bullet" solution is readily apparent, so no single Financing Alternative stands out. Thus, First River Advisory typically evaluates Financing Alternatives rigorously using various techniques. Some Financing Alternatives are based on a single Financing Product, but others feature multiple, yet coordinated Financing Products. First River Advisory often collaborates with clients and/or their consultants in constructing a forecasting model into which each Financing Alternative can be integrated by supplying the applicable assumptions.
First River Advisory presents to its clients a number of Financing Alternatives for consideration, along with an analysis of advantages and disadvantages, costs, risks and implementation factors. The Financing Plan represent the client's governing board's endorsement of a particular Financing Alternative.
FINANCING PRINCIPLES
First River Advisory often employs these Financing Principles to provoke vigorous and productive discussions among clients' executives and governing boards.
Financing Principle #1 - Determine Optimal Level of Overall Indebtedness
"Pay cash" should always be an option to be considered, although it may become eliminated in short order due to its impracticality.
Target levels of indebtedness to be incurred within a relevant planning horizon should be established.
A middle ground should be established between the "pay cash / avoid debt" approach to financing capital assets and a decidedly overleveraged situation.
While national and regional ratios and other quantitative measures are frequently employed, setting a level of indebtedness remains more art than science, and is often dictated by an organization's individual circumstances.
A high leverage ratio is more meaningful if the yield on the organization's debt is six percent than if such yield is four percent.
Setting target levels of indebtedness should take into account the difference between indebtedness secured by general obligations, and that secured by specific real estate, dedicated revenue streams and similar forms of limited obligations. While "off-balance sheet" is usually not "off-credit," advantages remain.
Financing Principle #2 - Develop a Financing Plan Which Maintains Operational Flexibility
Distinguish between corporate financing and project financing approaches.
Avoid subjective covenants such as those which require investor/lender consent and, even more importantly, "MAC" (material adverse change) clauses.
Capital financing options should be thoroughly investigated so that the organization will not encounter a "dead end" in the near future, when previous financing arrangements are either impossible or costly to unwind. There is no guarantee that past market practices will continue indefinitely, such as when routine renewals of credit facilities suddenly stopped at the beginning of the financial crisis.
Organizations should plan to borrow from positions of financial strength in order to maximize the choices then available and to preserve cash if needed during future periods of weaker financial performance.
Consider borrowing or hedging future interest rates during times of favorable market conditions rather than waiting until projects are ready to be financed.
Financing Principle #3 - Determine Appropriate Sources of Capital
While an organization's ability to attract philanthropy to satisfy past capital needs may have been extraordinary, future fundraising campaigns should be approached cautiously. Philanthropy should not be considered a "bottomless well," and may become absolutely essential in the future if mainstream borrowing channels become closed.
Organizations should plan to take advantage of sources of credit ranging from local lending institutions to the national debt markets. But remember that the "local lending institution" of yesterday may have been acquired, grown larger so it's no longer "local" or disbanded by the time that a credit facility needs to be renewed. Also, the local "friendly banker" may have moved on.
Because of its lower cost, long term debt normally should be incurred on a tax exempt basis whenever possible, which typically means for the financing of exempt-use capital assets. Tax exempt financing should be employed to the greatest extent feasible to preserve cash, philanthropic support and conventional borrowing channels for non qualifying uses.
Caution should be exercised in utilizing tax exempt debt to finance assets which may become redeployed for non exempt uses within five years.
In most cases where tax exempt debt is to be incurred, the principal amount issued should be maximized to obtain economies of scale.
IMPLEMENTATION OF THE FINANCING PLAN
Once the Financing Plan has been adopted, First River Advisory marshals the resources that are essential for the successful and timely implementation of the Financing Plan. One task is to assemble a financing team comprised of other professionals. In many cases, there are multiple vendors (investment banking firms, for instance), which offer the same Financing Product. In those situations, First River Advisory solicits and evaluates competing proposals, and recommends acceptance of the most advantageous.
First River Advisory performs many other tasks directly, and coordinates the efforts of others so that the financing timetable can be maintained. To execute this coordination function effectively, First River Advisory understands what all other professionals are supposed to be doing (even without the qualifications to perform those tasks itself) and the constraints under which they operate. First River Advisory has a low tolerance for professionals who aren't performing adequately, and has recommended to clients their replacement, even during the course of a transaction.
One of First River Advisory's most important tasks is to ensure that the yields on its clients' debt instruments are minimized. No matter what type of financing, preparation is critical. As described under Disclosure Philosophy, providing decision-makers with comprehensive and well-organized credit information which puts the client's "best foot forward" (yet adhering to securities laws regarding accurate and complete disclosure) is paramount. Because First River Advisory has been preparing clients' debt offerings in this manner for over two decades, subsequent transactions, even for different clients, receive close attention when they come to market.
In the case of negotiated public offerings of bonds, its subscription to Bloomberg Anywhere provides First River Advisory with access to the same kinds of real-time information that bond underwriters use. First River Advisory can compare underwriters' proposed pricing scales to other offerings in the market currently and those recently completed. Further, First River Advisory has the data to challenge underwriters' comments regarding the market's "tone" and other subjective factors. To facilitate communications and reinforce oversight, First River Advisory is typically stationed at underwriters' offices on pricing days.
As a result of these activities, First River Advisory has been consistently able to report to clients that their bonds were sold at the most favorable yields available. There have been only a few instances where, at the final pricing, firm orders for bonds materially exceeded the principal amount of bonds offered. Investment banking (underwriting) firms which fall short on this measure are expelled from First River Advisory's list of qualified firms, at least until circumstances change.